---
Symbols
The following designs/symbols may be added to any of our standard offerings to create your own custom-designed paraphernalia -- such as bags, caps, shirts, jerseys, jackets, etc. (Not all designs available for caps.) Large symbols generally add $35.00 to the cost of garments when not included, while small symbols generally add $15.00 to the cost of the item when not included in the design or price. Not all small symbols are available for caps as small emblems; some are only available as oversized cap designs.
EFFECTIVE 1/1/2022: All non-standard/custom designs are now considered to be ++ special designs, whether marked or not. For ++marked designs, add a minimum of $5.00 for small emblems and $15.00 for large emblems. For designs which indicate an extra cost, add that cost to the prices previously mentioned. Please contact us if you are not sure which designs are considered to be standard vs. custom/special.
Some designs may now be printed patches, which means that the image is printed on twill material, which will then be sewn to the garment.
Please note that these symbols, along with all of our other designs and pictures on this website, are COPYRIGHTED designs and may NOT be copied, scanned, nor reproduced without the permission of University Apparel, Inc.
---
General Elk Designs | State Designs
Drop-in Designs | IBPOEW Designs
---
General Elk emblems
These designs are available as small or large designs (unless otherwise noted). Many may be reversed in color, may be made in different colors, or may be used on other backgrounds. Many designs may now be printed twill emblems.

Elks Brush Script, Elks Script II, Elk Tooth, EL-(profile elk)-KS
Elk Heads

Elk Head #1, Elk Head #2 (front facing), Elk Head #4 (profile)

Elk Head #5 (small only), Elk Head #8 (outline)*, Elk Head #8 with clock
*shown with Lodge/Temple name at an additional cost

Elk w/ Crossed Arms, Elk #111811, Buck & Doe #2

Doe Head #1, Doe Head #2 (front facing)

Principle Circle, ELK jewel (please specify), PER jewel, PER letters
small only
Officer jewels

back to the top
---
Full body Elks
Elk Body #1:
small only
Elk O'Clock:
small only
Elk Body #2:


back to the top
---

State-Design emblems++
Semi-custom State designs available. Put the Elk or Doe within your state outline

back to the top
---

Split Circle Design++
Circle with Lodge or Temple name & number, and location.
Available as a small or large design.

back to the top
---

Elks/IBPOEW Brush Script, IBPOEW Swirl

Standard IBPOEW symbol, Elk Fez, Apron patch, Elk Eyes (small only)


ELK Circle Drop-in++
Circle with ELKS and Lodge/Temple Name or Affiliation, plus small symbol
Note: Large has outline letters, small has solid letters

Elk Evolution, Doe Evolution, Hands holding IBPOEW++(large only)

Elk Holding World, Doe Holding World, Elk Badge++

Elk & Doe Holding World* (with words ++)

PGER, PGER Circle++, PDR

back to the top
---
CUSTOM EMBLEMS are also available. Minimum orders and/or set-up charges may apply. Contact us for details.


back to the top
---
[Bags | Caps | Jerseys | Jackets]
[General Elk Specialties | IBPOEW Specialties]
[Accessories | Collars & Jewels | Symbols]
[Elk Expressions™ | Directory | About Us | Order NOW | Guestbook]
[ Request an Order Status ]
[TheMAAC.com (Masonic) | back to The GREEKSHOP™]
Privacy Statement/Terms of Use
Elk Expressions (TM) is a division of University Apparel, Inc. ElkExpressions.com (TM) is the sole property of University Apparel, Inc. and neither Elk Expressions nor ElkExpressions.com may be used without written authorization. For more information about this website, please contact the webmaster.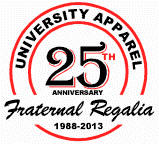 Copyright © 2000-2021 [Elk Expressions/University Apparel, Inc.]. All rights reserved.
Information in this document is subject to change without notice.
Other products and companies referred to herein are trademarks or registered trademarks of their respective companies or mark holders.
Letters, name, or insignia of particular fraternal organizations are not necessarily being sold under a license or other sponsorship from those organizations, and the manufacture and/or sale of products contained herein does not necessarily indicate approval by a national or local organization. It is the product manufacturers' intent that sales be only to and/or for members or pledges of the represented fraternal organizations.
"Special order purchases from local vendors are tantamount to a consent to use agreement or a limited license..."
Sarah Evans Barker, Judge, United States District Court, Southern District of Indiana
So ordered, 25 October 2004